Maison Pierre Mignon,

Champagne producer for 5 generations in Épernay
Maison Pierre Mignon, in Breuil, the centre for the production of Pinot Meunier, has a vineyard of 18 hectares lying among the best Champagne vintages. Maison Pierre Mignon has been making its champagnes there for 5 generations with production of over 420 000 bottles per year.
Coming from a long line of winemakers, for 5 generations Maison Pierre Mignon has been making exceptional Champagnes, fully respecting tradition while striving for innovation.
Heirs of know-how passed from father to son, Pierre and Yveline Mignon run the family estate and work in collaboration with their two children: Céline, Head of Export and Commercial Relations, and Jean-Charles, in charge of the vineyard and wines.
The 18-hectare vineyard lies amongst the best vintages of Champagne (Marne valley, Côte des Blancs, Épernay region). The main grape variety of Pinot Meunier (50%) is supplemented by Chardonnay on 40% of the plots and Pinot Noir, which covers 10% of the vineyard.
The typical features and diversity of the terroirs have led to the production of characterful Grand Champagnes.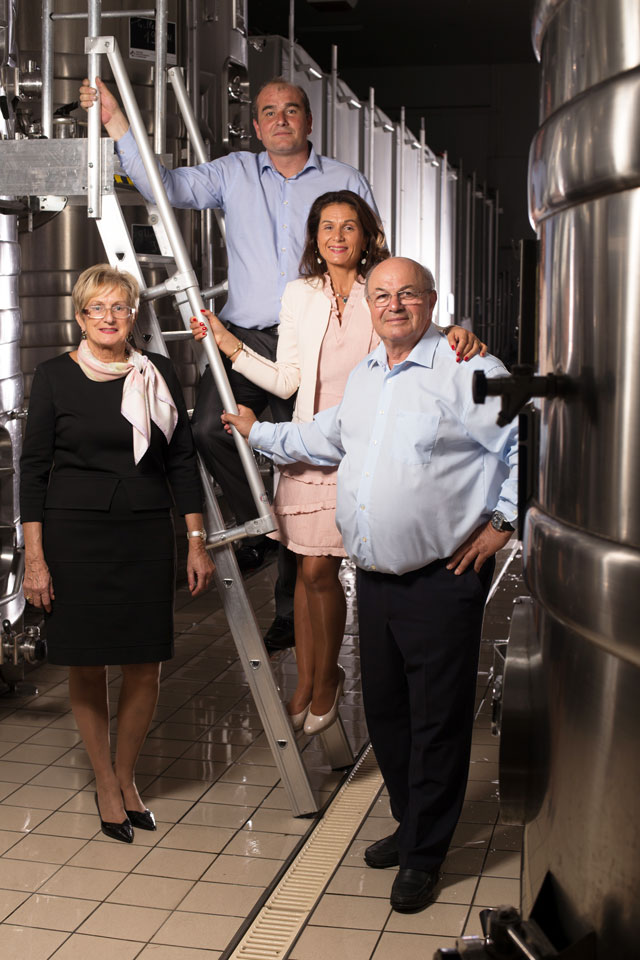 The diversity and typical features of the terroirs, spread over the Marne valley, have led to the production of characterful Champagnes. The know-how transmitted from father to son and great vintages are appreciated on the best tables in France and abroad. Why not taste our remarkable cuvées, subtle combinations and aromas based on Chardonnay, Pinot Meunier or Pinot Noir. Our winery has achieved Level 3 High Environmental Value certification .
Thanks to the careful management of the vineyards and rigorous winemaking methods, Maison Pierre Mignon regularly creates and produces new house Champagne vintages, rewarded by several awards and numerous internationally renowned prizes.
Our latest distinctions:
Coup de cœur and three stars in the Guide Hachette 2020; Cuvée Brut Prestige.
Grand prix d'excellence in the VINALIES INTERNATIONALES 2018 competition; Cuvée Brut Prestige.
Médaille d'or VINALIES INTERNATIONALES 2018; Blanc de blancs grand cru.
Médaille d'or Prix Plaisir Bettane and Desseauve 2018; Prestige Rose.
Champagnes Pierre Mignon, recognized by many connoisseurs, find their way onto the most prestigious tables. The Palais de l'Élysée, embassies and consulates, the Plaza Athénée hotel and tables all over the world welcome our exceptional wines.
Why not taste our products in our Champagne bar, located in Épernay, take the advice of our chef sommelier and then make your choice. Delivery available all over France and worldwide.