Pierre Mignon, Champagne
a feast for the senses!
Pierre Mignon Champagne bar

in the heart of Epernay (51)
Connoisseur or novice, experience the here and now and discover the different grape varieties and cuvées produced by our Maison. Accompanied by a sommelier of international fame, sharpen and surprise your senses as you discover and identify all the aromas and subtleties of our prestigious Champagnes.
And if you want to go further, treat yourself to our Champagne/seafood or fine cured meats deals, or our Champagne and cheese deals. And for the real food lovers, vintage wines and caviar… Champagne will hold no further secrets for you!
You can dine from 11:30 onwards.
Enjoy a unique gastronomic experience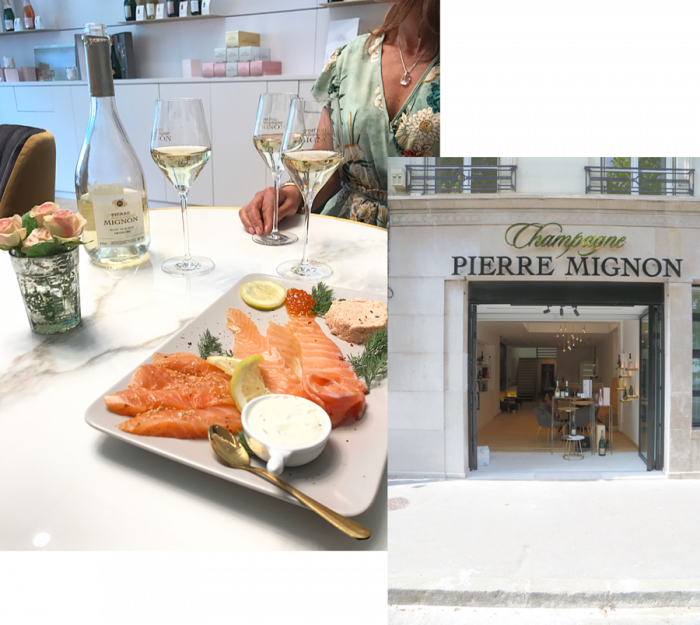 Tasting of
prestigious Champagnes
A perfect combination of food and wine
Vehicles for sharing and making unique discoveries, the Pierre Mignon Champagnes offer you classic, original and sublime ranges!
Let Denis Garret, our internationally renowned Chef sommelier, guide you and surprise your taste buds as you taste the exceptional Pierre Mignon Champagnes. Enjoy a sumptuous Clos des Graviers vintage with caviar, accompany the Blanc de Blancs Grand Cru with thin slices of smoked salmon and enjoy an excellent experience for your taste buds.
Top of the range Pierre Mignon

shop,


and outstanding cases
After a personalized and refined tasting experience, visit our sumptuous shop where you'll find all our Pierre Mignon Champagne ranges. Undosed Champagne, Champagne Grande Réserve Brut, Prestige Rosé or Millésime: leave with the favourite you tasted earlier or be tempted by new discoveries based on our exclusive recommendations.
Find our splendid gift cases cuvee collection and personalized labels for all your special events.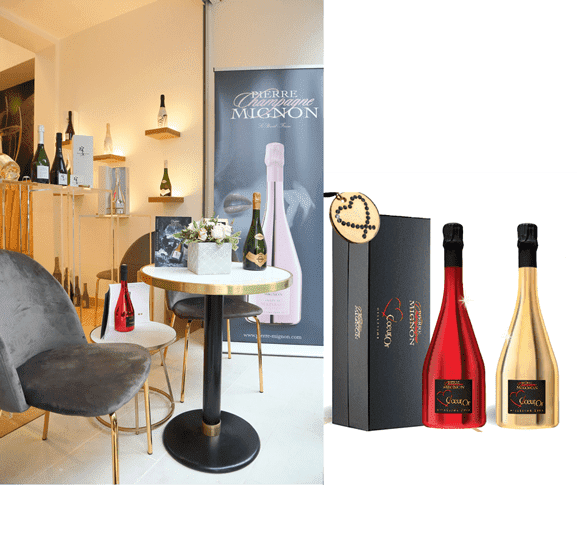 Accuracy, authenticity, quality, expertise
The estate is located in Le Breuil, major production site of Pinot Meunier, and our 18 hectare vineyard divided into different Champagne sectors: Marne valley, Côte des Blancs and the Épernay area.
Five generations have worked this rich terroir, producing exceptional Pierre Mignon Champagnes.
Thanks to the alchemy stemming from meticulous care paid to both to the vineyard and the wines, and to our passion, we are able to produce high distinction Champagnes, recognized throughout the world and found on the most prestigious tables.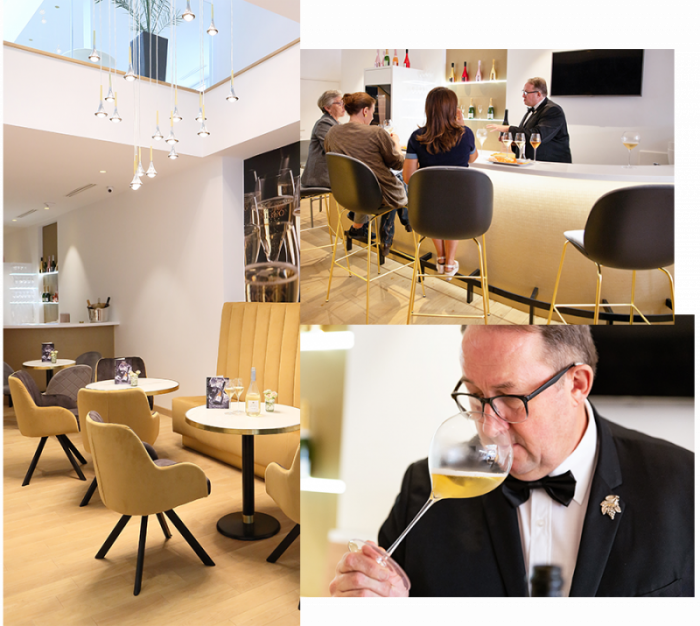 Want to spoil your customers and offer them a business lunch combining elegance and exclusivity? Are you envisaging a successful wedding in a sumptuous setting plus tailor-made prestigious organization?
Cocktail reception with colleagues, private family dinner, business meeting to pamper your clients or Master Class workshop: Champagne Pierre Mignon will organize your business or private event with sophisticate notes revolving around Champagne.
They enjoyed their taster experience
"We spent an evening at Pierre Mignon Champagne with Denis. He is absolutely fantastic and shared lots of interesting stories with us. The champagnes we tried are all amazing, both the Rose Pierre Mignon and the Millésime 2009, are simply fabulous! "
A family of expatriates, September 2019.
"Impressive! I have just had a lovely tasting experience at Pierre Mignon. Great champagne, perfect service. Not to be missed in Epernay."
Mr. Sip, September 2019.
"We had an absolutely amazing champagne tasting. [….] The place is sophisticated, elegantly appointed and very attractive. They offer exquisite caviar and delicious smoked salmon, cold meats or cheese boards to accompany the tasting of a vast selection of house champagnes. We thought the Clos des Graviers 2009 was exceptional. [….] Don't miss this place if you're travelling in Champagne!
Ms. Yegas, July 2019.
Find all our visitor reviews on the TripAdvisor site
and in our guest book available in our Champagne bar.